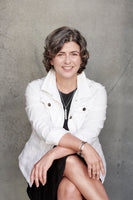 Designer, Susan Fiedler
Nothing against pink ribbons, but this collection tells it like it is! Raising over $300,000 for cancer causes since 2008.
learn more
F CANCER
Why F Cancer? Big battles need big words; living with cancer demands courage, self-awareness and that secret source of power - a sense of humor. We want to encourage people living with cancer to embrace the fullness of life - from the time of diagnosis to recovery and beyond. Our aim is to foster a community of people sharing their stories and support in their embrace of life, no matter what the circumstances.
Testimonials
"F Cancer? I couldn't agree more! I wear the bracelet in honour of my Mother, who I lost to Lung Cancer last year. We all have a reason. A relative, a friend, a co-worker. I'm tired of this F*ing disease."

Ed Robertson, Barenaked Ladies
I was given a F Cancer bracelet several years ago. I have never received a gift so simple in design, so creative in approach, so touching in concept or so appropriate for me! I fought and beat cancer in 2001. I suffered and overcame the side effects of radiation in 2007. And now – I am back to the table beating down cancer for the 2nd time. My bracelet is with me – and my family wears theirs – all inspiring me – and others of course – to fight the great fight.

W. Brett Wilson, Father, Entrepreneur, Philanthropist, Author, Speaker and Dragon Emeritus
"I am inspired by your feat of alchemy: to craft something beautiful and authentic from a challenging and what I can assume to be a painful experience. The bracelet unanimously attracts attention wherever I go in the world and I'm proud to highlight its relevance and message."

Lisa Ray, Author, Cancer Activist and Actress